Bathroom Excellence 1998/2012
ADI Design Index @ Cersaie 2013
The executive layout of the exhibit
According to a call for bids reserved for the associated ADI Designers of Emilia Romagna, the executive layout of the exhibit has been assigned by  the court- Scientific Committee, curator of the Exhibit, composed of:

· Nerio Manfredini (Committee Chairman)
· Carlo Branzaglia
· Oscar Colli
· Cristina Faedi
· Graziano Sezzi
· Angelo Dall'Aglio
· Beatrice Coltelli
Winner Designers of the call for bids
Design Group: Lorenza Golinelli, Dario Foschi, Stefano Nolletti, Manuele Focacci.

Lead Designer and ADI member:
· LORENZA GOLINELLI architect – studio I-DEA s.r.l.

Group:
· DARIO FOSCHI, STEFANO NOLLETTI, MANUELE FOCACCI architects – Studio FOSCHI&NOLLETTI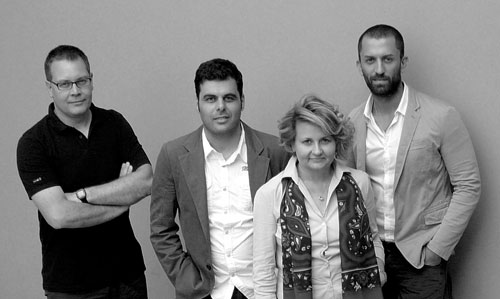 Project Concept
The proposed Competition concept explores an exciting theme touching on both the intimate space of the home and the importance of Italian design excellence, which ADI has always promoted by fostering culturally aware design at the interface between supply and demand.
Since 1956, ADI has brought together designers, companies, researchers, teachers, critics and journalists in an exploration of the design-related issues of planning, consumption, recycling and education. The annual ADI Design Index pays tribute to the very best Italian design projects that have been put into production.
Since 1964 ADI has curated the Historical Collection of the Compasso d'Oro Award, which was first launched in 1954 by the La Rinascente department store in Milan based on an idea by Giò Ponti.
Cersaie, the International Ceramic Tile and Bathroom Furnishings Exhibition, is the foremost international exhibition for these sectors and each year attracts hundreds of exhibitors and tens of thousands of attendees.

With this in mind, our project follows a number of guidelines, serving as a museum – a receptacle for precious objects – while evoking an industrial space and the atmosphere of a large store. It is a kind of time machine that allows us to re-experience design over the years and appreciate how we have changed even over just a decade. We created the exhibition concept on the basis of a quick image search.

The floor plan is simple, almost obvious: the posts of industrial shelving (which can be disassembled and reused in other contexts) delineate the corridors, inspired by a museum and industrial context. The black colour of the structures, floors and walls creates a neutral space while at the same time highlighting the displayed objects as if they were jewels, forming a kind of scenic backdrop that enhances their value.
The "lattice" element typical of certain twentieth-century industrial architectures occurs repeatedly – in the shelves, in the pallets used as perimeter walls and in the lattice girders suspended transversally above the corridors.

The space committed to the winner product of the Compasso d'Oro ADI is emphasized by a gold-leaf full height wall and a polished black platform. Those elements confer a great visibility to the object by communicating to the visitor of the exhibit a feeling of magnificence.

The lighting design also helps to combine the concept of museum with that of industrial space through the use of suspended lighting fixtures and spotlights directed onto the objects themselves.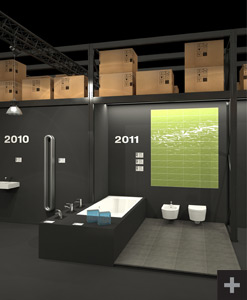 Set Up
cured by A&M Productions