Overview of Cersaie
CERSAIE - International Exhibition of Ceramic Tile and Bathroom Furnishings
Organized by
Promoted by
In collaboration with
Show Management
PROMOS srl
E-mail: cersaie@cersaie.it - Tel. (+39) 051.6646000 - Fax (+39) 051.862514
P.O. Box 37 – 40050 Centergross Bologna – Italy
Where and When
Bologna Exhibition Centre
25 - 29 September 2017
Online booth
Register here to get your entrance ticket.
Entrances
1 Ovest Costituzione entrance: piazza della Costituzione 5 ›› Google Maps
2 Sud Moro entrance: viale Aldo Moro 20 ›› Google Maps
3 Est Michelino entrance: via Michelino ›› Google Maps
4 Nord Ovest Calzoni entrance: via Calzoni 16 ›› Google Maps
5 Nord rotonda Dante Canè entrance ›› Google Maps
6 Viale della Fiera entrance: only for authorised vehicles ›› Google Maps

It is forbidden to bring into the Exhibition Centre any kind of animal.
Dogs can access the Exhibition Centre only if they are on a leash and wearing a muzzle, or in their carrier, except for dogs for the disabled which can access without any restrictions.
Exhibition Centre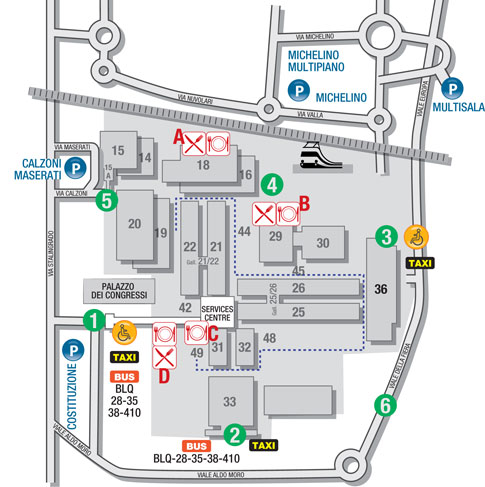 Details

Services Centre
Details