Exhibitors' catalogue user guide
How does the search work?
company name
country
product category
hall/area
keyword of the company production
companies having at least one product image on-line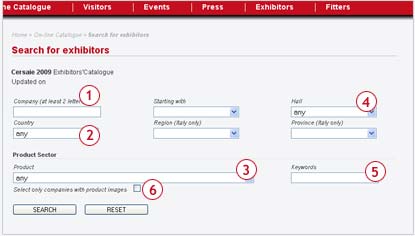 Your search is based on the data given by the company: we suggest you to use single words, broken words are better (if you enter MONOCOTTUR you will find both MONOCOTTURA and MONOCOTTURE) Each search action generates a list of exhibitors on the basis of the selected search parameters.

Example: if you enter "France" in the field "country" and then "19" in the field "pavilion", you will select all French companies exhibiting in pavilion 19.

This program acts like a filter and generates a list of exhibitors having all the characteristics selected in your search action. When your search action produces no result, that is when you read "there are no companies found", it means that you selected too many parameters and there are no companies having all the characteristics required.
In this case we suggest you to reduce the parameters, selecting in some fields the option "any" (the first option indicated in each field). If you do not select any parameter, then you will obtain the complete list of exibitors.
What can be done with the list of matching companies?
The companies found may be:
See the company's detail displayed
: if you click on the company's name you will have the company's detail displayed. In this page you will find the following tools:
A - the hypertext connection to the Web page of the exhibitor
B - the product images concerning the exhibitor's production
C - the possibility of adding the company's detail to your on-line agenda (see Help agenda)
D - the possibility of going back to the selected list of exhibitors
E - to see the previous or the following company's detail displayed


You can export the data in a file of your PC

You can include the list or the single exhibitor in your on-line agenda: select ADD TO THE AGENDA in the page showing the list of exhibitors selected or in the page showing the exhibitor's detail respectively.

From the company detail window you may be able to:
proceed to the company web site. This is obviously possible only when your computer is directly connected to the Internet.
send an e-mail message. This is obviously possible only if your computer contains a predefined or active e-mail program and a connection to the Internet.
display the map of the hall to obtain the precise location of the company booth in the Fairgrounds